Single Channel Recorder
To comply with the regulation and manage risky transaction, it is sometimes necessary to record the voice communication with your client but traditional and state-of-art voice recording system might be too robust and not economic means for the implementation.

Damovo HK offers you a choice for a single channel digital record within affordable budget. Through which you can safeguard your call recording for information security, confidentiality and privacy. This device is self-contained and compact, and satisfies your recording needs via the following features.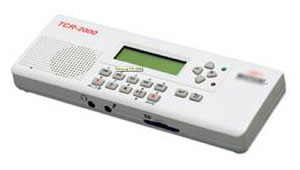 Highlighted features
• 3 levels of user account
• Recording encryption
• Memory card password protection
• Built-in USB port to transfer recorded data to PC
• Recorder warning tone and recording announcement (optional)
• Direct connection with analog line or digital/VoIP
• Handset cord for call recording
• Build-in microphone for room recording
• Built-in speaker and earphone jack for listening of calls or live calls monitoring
• Power adapter or battery powered
• SD technology storing 2,300H of conversation on 32GB SDHC card (72H/1GB)
• Total call recording or manual-controlled recording
• Date/time, length, Caller/Callee ID, inbound/outbound, Case ID, Comment, Value, Save,
Important, phone/microphone and bookmarks stored
• "Important" and "Save" calls permanently stored
• Last call replayed instantly with one-key
• 3-speed forward/backward search according to date/time
• Search calls with multiple search option menu or search calls only assigned "importance"
• Replay first matched call or all matched calls successively
• Bookmark and block replay
• Voice storage low/full/absence alert and battery low alert
• Export or load configuration from memory card
• Supplied with free software for off-line playback and management through PC Integration
(optional)